We carry the full range of quality Encaustic Art Rubber Stamps produced in Europe. These are a great way of bringing extra life to your cards or other artworks with a great range of silhouette subjects, ranging from a Christmas theme, to a maritime flavour, fantasy, a range of trees and miscellaneous items like the cat and owl.
They are equally suitable for use in card making, general hobby and crafts and other creative activities.
Ink stamping for encaustic work should be done with a dye (or solvent)ink pad, not pigment which is liable to smudge when the wax is added, and must be completely dry before adding encaustic wax to the image, using transluscent colours, not opaque ones and using clear wax to weaken the colour over stamped areas.
It is also possible to do stamping using molten wax, utilising the mini hotplate function of the Arts Encaustic Painting Iron. The stamps are cleaned after using with wax simply by heating on the hotplate and wiping with a tissue.
The entire range available is shown below. Sizes are approximate to be used for a guide only.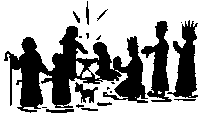 Block Size 92mm x 50mm
Rubber Image 75mm x 45mm
PRICE: $18.00