We stock a range of tools and accessories for encaustic painting, beginning with the versatile painting iron and the stylus tool which has a range of interchangeable tips through to the quality electronic control heat gun.Other handy tools include the Arts Encaustic rubber tipped scrapy wax movers & the set of encaustic sponges to accompany the brass scribing tool and of course there are also the quality German made hogs hair brushes.
Please Note: We recommend all electrical equipment should be used via a surge protected power system to avoid damage to equipment.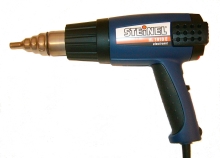 Includes Reducing Nozzle. Electronic controlled Hot Air Gun – 2000 watt – 50dg – 600dg C – 3 Speed Quality Hot Air Gun (Heat Gun), manufactured in Europe. A great addition for any encaustic artist to create all sorts of interesting patterns, flowers, etc., on many different surfaces.
PRICE: SORRY CURRENTLY UNAVAILABLE